We've all been there – getting ourselves to the point of just whipping out our phones or opening a PC search engine browser to help find an immediate solution to something that's getting us in a tizzy! It might be a crossword puzzle clue, a recipe for a child's birthday cake, or struggling to get your accounts in order – known as a "Google Moment", one of the most common searches for the latter is "accountants near me". But do you really need your accountant to be near you in today's virtual world?
Communication is key
It shouldn't matter where your accountant is based. As long as they communicate with you regularly via telephone, email, video meeting or face-to-face if this is convenient and important to you, it is important that you feel all your questions and queries are resolved and that the information you receive is jargon-free.
You should ideally have one main point of contact from your accountancy provider, or at least be assured that you have access to the right expertise depending on the range of services you receive be they accounts and auditing, corporate or personal taxation, payroll, or specialist services such as forensic due diligence or the firms outsourced finance director offering.
Proactive vs reactive
If the Coronavirus global pandemic has taught us anything, it's to be prepared. And for businesses, this means ensuring your finances are always in order with cashflow reserves built up and readily available to see you through economic and seasonal fluctuations. The national and regional lockdowns that were put in place to stop the spread of Covid-19 highlighted that even without face-to-face contact with our stakeholders, communication did not stop or at least should not have stopped from your accountant with regular Coronavirus guidance on Government funding such as the Job Retention Scheme and local authority grants for example.
Your accountant should always be there to provide ongoing relevant advice for your practical and financial benefit and that of your organisation, not just to fulfil your compliance to HMRC. Do they post tips on social media? Do they write informative blogs and articles? Are you receiving monthly newsletters with updates and opportunities for your business?
Giving back to you and the community
You may have appointed your accountant following a recommendation and you may have subsequently recommended them on to your own customers and contacts if feel you've received a good service from them. However, has your accountant done the same for you? Whether they're sharing your social media posts, promoting your good news on their own digital platforms, or introducing you to contacts, your accountant should be supporting and growing your business, no matter where they are based.
Furthermore, ethical responsibility to the environment and wider community are important factors in business. One of the key points to consider when it comes to geographical location, is what your suppliers including your accountant, doing to support those that need it through charitable involvement?
Location, location, location
Most businesses will have local, regional, national and even international customers and still manage to provide a high-quality service so it should be no different for your suppliers including your accountants.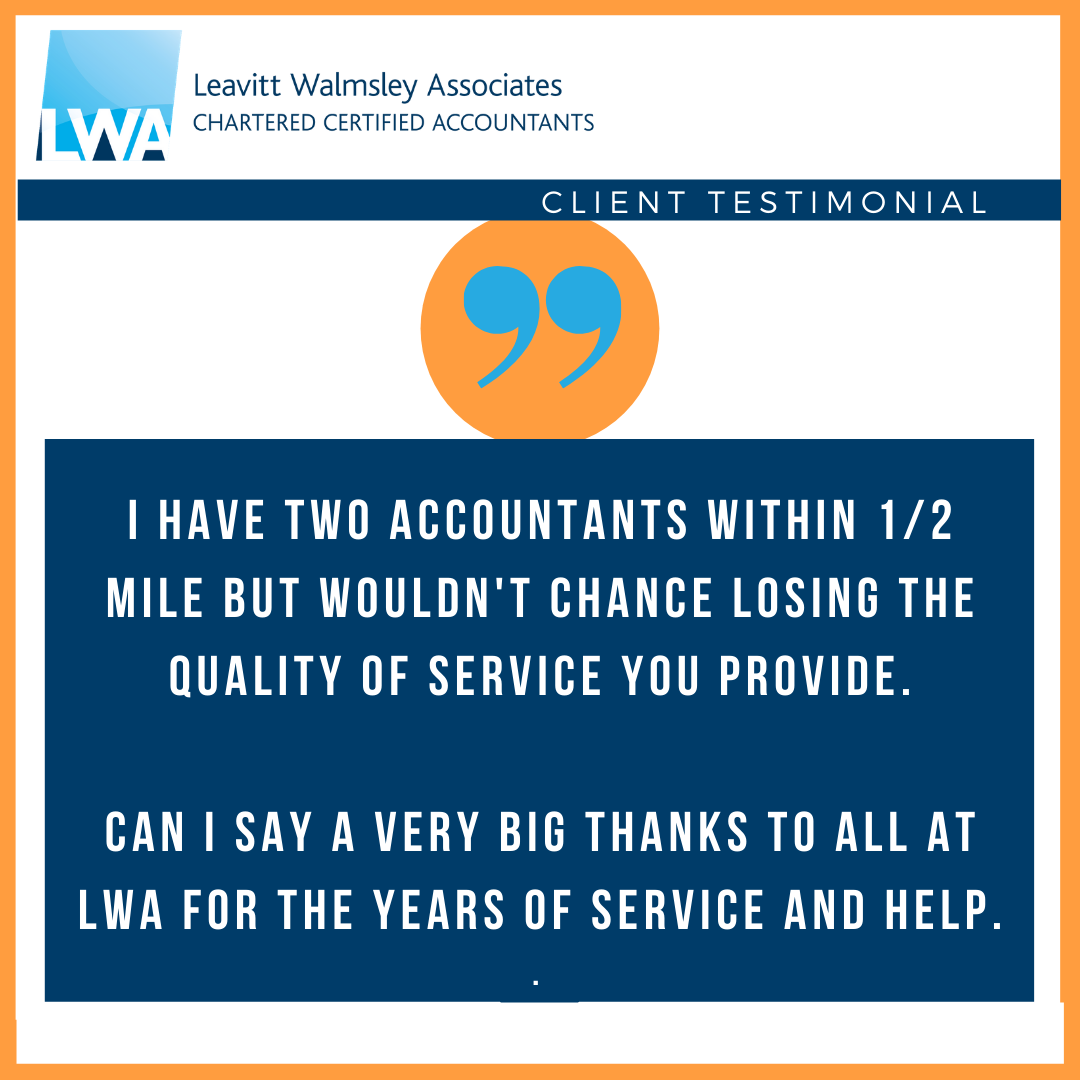 One of our own clients at LWA that is based over 20 miles away from our South Manchester location (and inspired this blog!) told us "I have TWO accountants WITHIN 1/2 MILE but wouldn't chance losing the QUALITY of service you provide. Can I say a very BIG thanks to all at LWA for the YEARS of service and HELP."
Having the right accountants in place should save you time and money, ultimately making your life easier and happier, which is exactly what the team at LWA strive to do for each of our clients. If you would like to find out how we could work for you, please don't hesitate to contact us in South Manchester on 0161 905 1801 or in Warrington on 01925 830830 – not that location should matter!